The HSVFest philosophy is to provide the maximum amount of fun for HSVOC members and their cars at prices which families can afford.
This event is run to cover costs and does not provide any income for participating clubs or the Organising Team.
Background
After doing a bit of homework, the first HSVFest was held in Albury/Wodonga on the Queen's Birthday long weekend in June 2013 with just 12 cars attending from the ACT and Victorian HSVOC's. After the news of the success of this event spread, the second HSVFest was held in 2014 with nearly 50 cars making the trip. When the NSW HSVOC was invited in 2015, this event became too large to organise on the informal basis that it had been in previous years.
A small Organising Team of James Weber (ACT), Pete Eastwood and Joe Rapinett (Vic) and Ian Williams (NSW) was formed to organise the 2016 HSVFest with duties being shared between the clubs. 2016 also saw the introduction of an online entry and payment system so that accurate orders could be placed in advance with event suppliers to ensure that staffing was in place and that nothing ran out.
2017 was the largest HSVFest yet, with over 200 people attending from the 3 Club's and saw the introduction of a Dyno Shootout held at the premises of LS Engineering in Albury.
2018 was the year that the www.HSVFest.com website was launched and is administered by the NSW HSVOC Webmaster. It is linked to the NSW HSVOC e-commerce system that manages the event payments and entrant accounts. All HSVFest entrants need to Register and create their Account which is required in order to Log In to enter these events. Once an Account has been created it can be used to enter all future HSVFest events.
In 2020, HSVFest Supporting Clubs Victoria, ACT and NSW agreed on a Memorandum of Understanding with the HSVFest Organising Team that formalised the relationship between all parties. Each of the 3 Supporting Clubs agreed to share equally any downside that may occur due to an unforseen event until the HSVFest Organising Team was able to grow sufficient reserves to cover such an event.
The success of this large event was also due to the assistance of several other HSVOC members Roxy Duke (ACT), Chris Kelly (Vic) and Louise & Brett Davey (NSW) and many other HSVOC members who helped out at the various events they attended.
The success of this event is also based on its guiding principles: fun, informality and value. It doesn't include serious indoor shows, formal dinners and big budgets – but it will include events and activities to satisfy most HSV owners at a cost where members can afford to bring their families and include them in with the fun. HSVFest is definitely the "must do" event each year for every HSV Club member in Australia!
HSVFest Accommodation
Please first book accommodation for yourself and guests direct with the venue, and make sure that your accommodation is secured prior to submitting your HSVFest entry.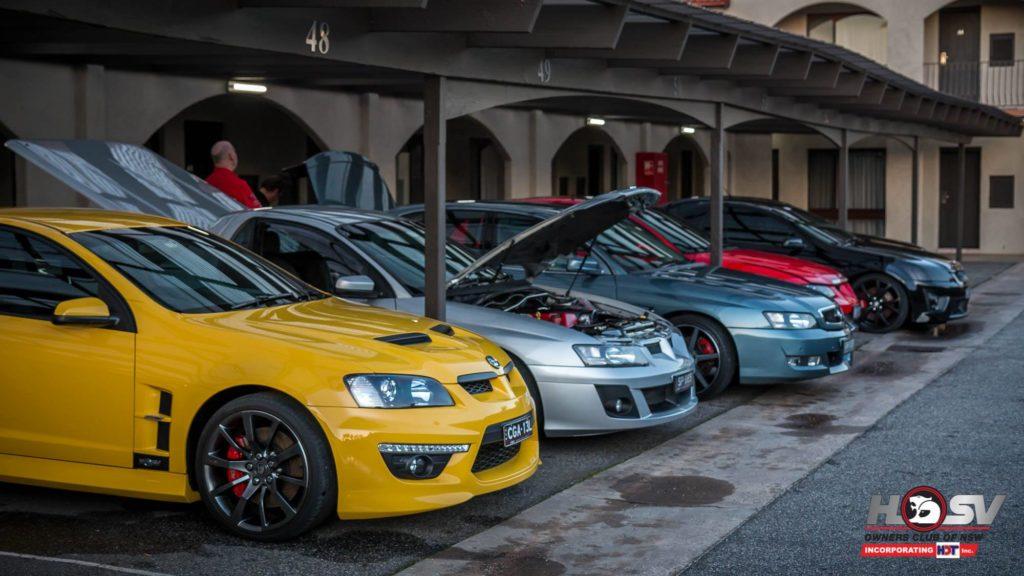 HSVFest will be based at the Siesta Resort Albury and rooms have been reserved for our Club members. These rooms are available on a "first in" basis. Saturday and Sunday dinners will be held at the Thurgoona Resort, but Friday dinner and the Motorsport Drivers Briefing will be held at the Siesta. The Siesta has undercover parking and its gates are locked at night for added security. If you are unable to book at the Siesta the following accommodation options are recommended:
Siesta Resort 416/422 Wagga Rd, North Albury NSW 2641, Phone: (02) 6025 4555
When booking please tell the Siesta which HSVOC Club you are with.
Thurgoona Country Club Resort, 1 Evesham Place, Thurgoona NSW 2640. Phone: (02) 6043 1411
Albury Classic Motor Inn – 404 Wagga Road, Lavington, Albury 2641. Phone (02) 60257177
Quest Apartment Hotel – 46 Reid St, Wodonga VIC 3690. Phone: (02) 6043 8300
HSVFest Event Registration
Members who registered for HSV Fest in previous years will already have an account and they can access it again using the same login email address and password. Please click here to Login to your Account. It will open in a separate window in the secure website.

If you don't have an account, you will need to register before you can Login. Please click here to create your account and then Login. It will open in a separate window in the secure website.
Once you have an Account , just Login (icon top right of that website) to gain access to your Account.
If you are having difficulty in creating your Account or logging in, please click here for step by step instructions.
Creating your Account will save you having to enter the same information each time that you use this system in the future.
HSVFest Catering
A "Welcome" outdoors dinner is held on the Friday evening at the Siesta Resort. The cost is included in the HSVFest entry price of just $15.00 per adult and $10.00 per child under 12 years old.
On Saturday, breakfast and lunch are at the entrant's choice. A low cost sausage sizzle lunch is usually available at both the Show n Shine and Dyno Shoot out. On both the Saturday and Sunday nights, a 2 course dinner is held at the Thurgoona Country Club Resort, 1 Evesham Place, Thurgoona NSW 2640. The Show 'n' Shine trophy presentation takes place at this dinner on Saturday and the Motorsport presentation takes place on the Sunday.
Meals at the Thurgoona Resort are from a great fixed price Menu and include desert as well as gluten free options. They are also prepaid with HSVFest entry at a very reasonable cost of $25.00 for Adults and Kids mains at just $10.00.
A coach from the Siesta Resort to the Thurgoona Country Club is available and tickets for seats pre-purchased with entries. Cost is $8.00 per seat for the return trip and will need to be prepaid.
On Sunday and Monday, breakfast is again at the entrant's choice and a BBQ lunch on Sunday is included in the cost of Motorsport entry – $90.00 for participants and $5.00 for spectators.
HSVFest Friday
Friday is the Club Cruise to HSVFest. Due to their varying locations, Clubs have different arrangements.
The ACT Club meets at Yass truck stop on the Hume highway for an 8:45am briefing and a 9:00am departure to the Yass servo (2hrs / 210 kms). 11:30am arrive Holbrooke 1 hour food and fuel 12:30pm depart Holbrooke (45min / 58 kms) and then at 1:15pm arrive Siesta Resort to check in, clean cars and collect any remaining entry packs for the event.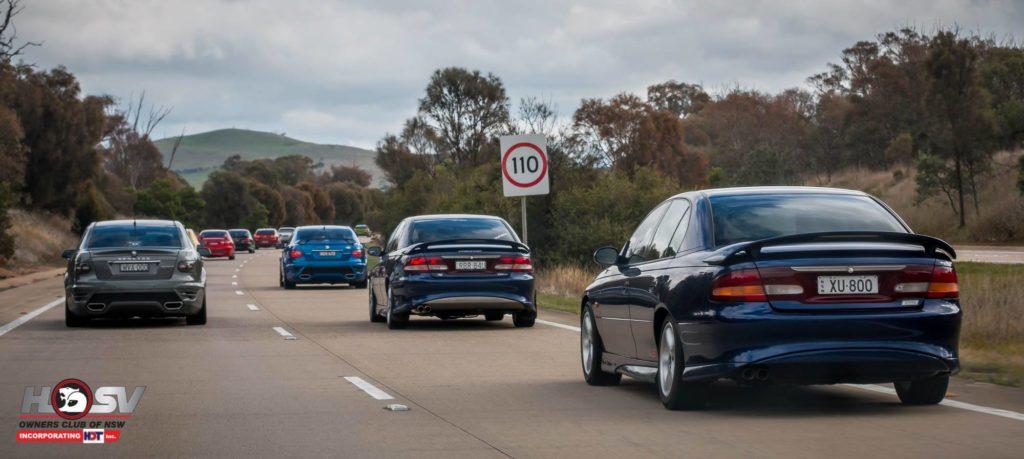 The Victorian Club meets at the Wallan BP on the Hume Frewway at Wallan leaving at 9:15am. There is then a quick stop over to stretch legs and grab a coffee at the Glenrowan BP then arrive at the Siesta Resort around 1:00pm to check in, clean cars and collect any remaining entry packs for the event.
The NSW Club meets at the Pheasants Nest Caltex/Ampol Truck Stop for an 8:45am briefing and a 9:00am departure to arrive at Goulburn 10:15am (1:15 / 116 kms) for a 30 mins morning tea & fuel. Depart Goulburn at 10:45 and arrive at Gundagai at 12:35 (1:50 / 181 kms) for a 45 mins lunch and fuel before departing at 1:10pm 3:00 arrive at the Siesta Resort at 3:00pm (1:50 / 178 kms) to check in and clean cars. A second convoy will leave Pheasants Nest at the same time and only make the one stop at the Yass BP Service Centre at around 11:00am and departing around 11:30am. Members are welcome to join either convoy.
If you are coming from another state the trip to HSVFest will depend on what each Club's entrants would prefer. Please contact your Club's Social Secretary for more information.
As mentioned earlier, a "Welcome" outdoors spit roast style dinner is held on the Friday evening at the Siesta Resort. The cost is included in the HSVFest entry price of just $15.00 per adult and $10.00 per child under 12 years old.
HSVFest Saturday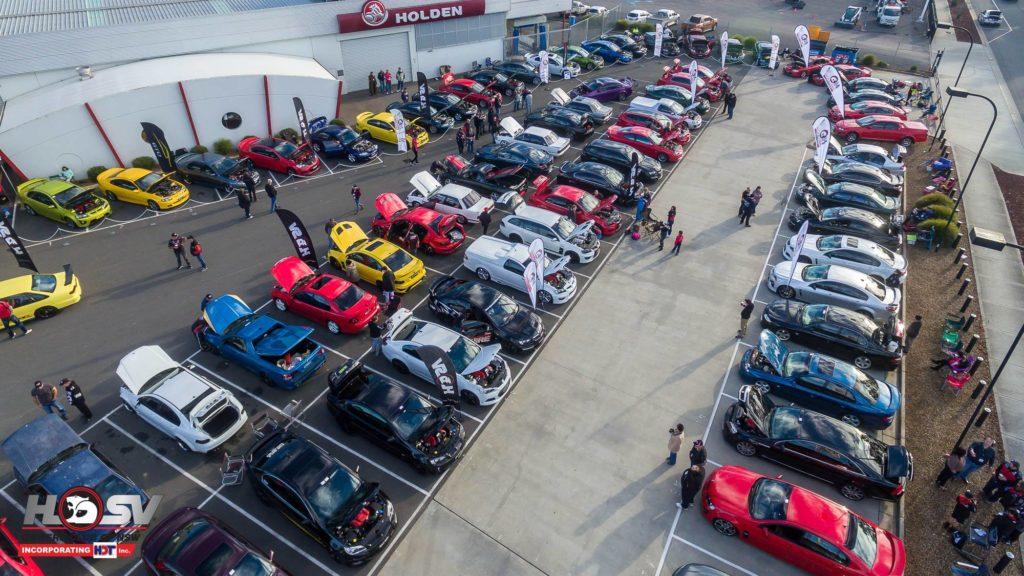 Shannons Show n Shine
Shannons Show 'n' Shine is held at Gateway Lakes, Lemke Rd, Gateway Island VIC 3691 and is being organised by the Victorian Club at a very reasonable $15.00 per vehicle entry cost.
Car's are displayed in each Club's allocated area and will not only competing with each other, but with other clubs for the HSVFest Shannons Show n Shine Shield. This Shield is awarded for the Best Club Display annually and is presented together with the Class winners trophies at the presentation dinner later that night.
There are four Classes in which cars can enter. They are Daily Driven (cars travelled more than 10000km a year), Show'n'Shine (cars travelled between 5000km to 10000km a year), Elite (Cars travelled less than 5000km a year including the current year's model) and Modified. Cars that have more than 5 significant modifications must enter this Class.
Judging will be conducted in 4 broad categories and scored out of 100. A maximum of 30 points will be awarded for Exterior (Paint work, glass & lights, body & trim condition), Interior (Dashboard, steering wheel, console, pedals, doors, carpets & floor covering, headlining seats and seat-belts) and Engine Bay (Engine, engine bay, underside of bonnet, firewall, build plates, decals, exhaust system, intake system) categories and a maximum of 10 points for Wheels & Tyres (General cleanliness, scratches, blemishes).
Shannons will also be presenting the Shannons Choice Trophy to their pick of the Day.
Saturday Afternoon Options
After the Show and Shine, there is a choice of the following four activities:
A Dyno Shootout at LS Engineering, 8/32 Fallon Street, Albury, New South Wales (Next to Albury Airport) starting at 1:30pm. Cost is $70.00 per entrant or $100.00 per entrant on the big power hub dyno. Everyone gets 2 runs, a dyno sheet plus bragging rights.

A drive to a local Winery.

A family friendly cruise to mystery destination.

An afternoon chill out at the members discretion at the Gateway Lakes or as organised by yourself.
HSVFest Sunday
Motorsport
Please note if you are participating in the Motorsport fun on Sunday that you will need to have a Motorsport Australia Licence. If you don't have a Motorsport Australia Licence you have the option to prepay $25 for a one day Motorsport Australia Introductory Licence when you choose your Motorsport option while making your selections.
Please also note that our Motorsport Australia Permit limits the maximum number of entries that can can be accepted for the Motorsport Day. Motorsport entries will be accepted in order of receipt, however priority will be given to those who have also entered the HSVFest Show n Shine. Motorsport entrants who have entered after the limit has been reached will have their entry fee refunded, less $5.00 for lunch which will still be provided.
The Sunday event is held at the 1.6 km Wodonga TAFE Driver Training Complex which is 30 kms / 23 minutes drive from the Siesta Resort down the M31 Hume Motorway to Barnawatha North. The Day commences with a Drivers Briefing prior to the morning Track Sprints which are followed up by Go to Whoa eliminations in the afternoon.

Track Sprints
Competitors stage in their respective Groups and are let out onto the track in competition number sequence. The initial group does not need to be formed in number sequence as that will be organised by officials when commencing each Group's first run.
Cars stage in their respective Groups and are let out onto the track in competition number sequence. The sprint timing starts as soon as the car accelerates off the starting line and stops when the car crosses the timing line at the finish before coming to a complete stop before the control line. When stopped, competitors will be able to see the time for their run and then proceed to queue back with their Group in competition number order. This will be repeated for three runs.
Go to Whoa
At 1:00pm competition will cease for 30 minutes while officials have lunch and set up the Go to Whoa course. All vehicles will be relocated by driving around the track and forming a queue at the control line at the end of the track, facing the Go to Whoa course entry.
Vehicles will be called to pre-staging, then side by side into 2 staging areas before moving to side by side two start lines. Upon the drop of the starters arms both cars are to race in a straight line to their respective "garages" (marked by cones) at the end of the course. The first car to come to a complete halt entirely within their garage is the winner of that round and then proceeds by turning left and staging with the other round winners alongside of the concrete wall on the other side of the competition course. Each car that has been eliminated is to turn right and proceed around the track and join the queue for the next run. Cars will be disqualified for starting before the starters arms (not body) start to move. Dead heats will be re-run. Judges decisions will be final.
Once every car has had a run, the winners of the previous elimination will compete against each other in the same manner until only one car remains and that car will be the winner of that round.
HSVFest Monday
After breakfast, Monday is a Cruise back home at your leisure, either with your Club's convoy, with some friends or by yourself. Please check with your Club's event organiser for details of when and where your Club's convoy will depart.
---

James Weber (ACT)
E: luvhsv@hotmail.com
Pete Eastwood (Vic)
E: gosickr8@gmail.com
Joe Rapinett (Vic)
E: joerapinett@outlook.com
Ian Williams (NSW)
E: hsvfest@hsvclubnsw.com
---